Tech Stuff for School Science Technicians
Last updated 23rd May 2002.
It's about days until we break up for the Summer Holiday. I think.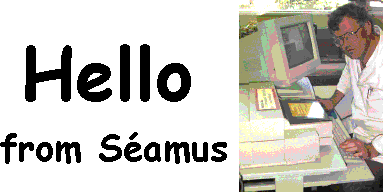 Page created & maintained (badly and infrequently) by science technician Séamus King, Old Hall School, Rotherham, South Yorkshire.

A source for school science technicians, a place to exchange ideas, to gripe about teachers,
useful educational links, links to manufacturers & suppliers and maybe some other stuff too.

Updated 23rd May 2002. I really must get around to updating this page properly. Doh!!!
---


Science Requisition and Risk Assessment Form, http://uk.geocities.com/seamustuff/requisition.html
Feel free to copy or modify for your own use.

The Scitech Technician Discussion Forum Badge, http://sdk.tripod.com/makebadge.html
Be sure to wear one at meetings and on courses.

Back to the top of the page.
---
A Bulletin Board, Hurrah!! Installed 9th March.
Click on Go to Message Board to go to the message board...
Click on one of the index's to view the postings


---
Cartoon
"Oh no," cried the HOD as he collapsed to the floor,"I expected saccharin in my coffee not strychnine."
Séamus King

"Maybe venting the new fume-cupboards through the staffroom wasn't such a good idea...On second thoughts."
Bee Lake, Eastleigh College

If you can think of a better caption email me at one of the addresses at the bottom of the page.

Back to the top of the page.


---
Whingin' Technicians